Welcome to the Police Academy Wiki
Police Academy is a series of American comedy movies which follow a group of misfit recruits in their attempts to prove themselves capable of being police officers, and succeeding both in spite of and because of their eccentricities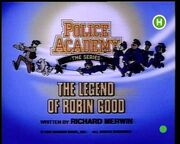 An animated comedy, entitled Police Academy: The Series produced by Ruby-Spears Productions and Warner Bros. Television. It ran from September 1988 to September 1989, lasting two seasons with 65 episodes produced.
Police Academy: The Series was a 1997 live-action show based on the films, comprising 26 hour-long episodes. It was produced by Warner Bros. Television and Protocol Entertainment. Michael Winslow reprised his role from the films, the only cast member from the films to have a recurring role on the show, although several others made occasional guest appearances.
Loading RSS data...
Ad blocker interference detected!
Wikia is a free-to-use site that makes money from advertising. We have a modified experience for viewers using ad blockers

Wikia is not accessible if you've made further modifications. Remove the custom ad blocker rule(s) and the page will load as expected.