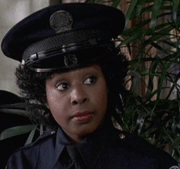 Hooks
(played by Marion Ramsey in the movies and Denise Pidgeon in the cartoon) is a diminutive, soft-spoken and woman with a very high-pitched voice. However, she is known for becoming aggressive when frustrated or otherwise pushed to her limit, punching people out or pulling her service weapon, screaming the memorable phrase: "Don't move, Dirtbag!" The word "dirtbag" is possibly something she inherited from her days in the Police Academy, under the training of then-Lieutenant
Thaddeus Harris
. In
the third movie
, Hooks became more assertive in keeping people in line. She was the first one who quickly figured out that her former cadets,
Blankes
and
Copeland
were playing tricks. She knocked Blankes and Copeland out cold and told Cadet
Fackler
(Debralee Scott) to inform
Mahoney
of the situation with the Governor. She appears in the first six films of the franchise and in
the animated series
. She is seen with
Hightower
in the 5th and the 6th films and in the animated series.